Having shared his eye with us on our SMOOTHPOSER EDITORIAL, we caught up with Oakland's own JEAR KEOKHAM to pick his brain from art to social change, the Bay and everything JEAR.

—
STEADY: First question's super straightforward—Tell the people where you're from man.
JEAR: I'm from the Bay Area, born and raised and I'm very proud of that. I was born in Oakland and I grew up in a little town called Fremont but I'm all over—I work in the city, go to school in Berkeley and am currently in Hayward. All of it is home to me though, not just where I'm staying. The entire geography of the Bay Area has a special place in my heart.
STEADY: Where's your favorite place to eat in the Bay Area?
JEAR: Man, it's so contextual and circumstantial for me. I'm the type of dude that would eat at a white tablecloth restaurant but also go to hole-in-the-walls with flies buzzing around. Cal-Mex is my favorite genre of cuisine but I couldn't eat a burrito everyday. For good Lao food, there's a place called Champa Garden in Oakland. It's a pretty dope-ass spot–dope ambiance, dope food and it's affordable!
STEADY: You've been to New York a few times now—have you feel like you've experienced a New York moment yet? Whatever that may mean to you.
JEAR: There's no experience that could top my first visit to New York. We settled in and we hit up friends to meet in Herald Square right outside of Macy's. This was at like 3 A.M. I had a little flask with some Hennessy and I was like "Yo people ain't trippin'?" 'Cause I mean, in the Bay Area past 2 A.M. it's kinda weird to be out in the public. Maybe it had something to do with the air or tap water but I remember that moment then and there. I was still googly-eyed, everything was hitting me then while drinking out of the flask. I felt like I was just introduced to the city that never sleeps.
STEADY: So this is a hot button issue between us and our west coast friends—Talk about New York tap water.
JEAR: For context on California tap water–there's nothing wrong with it, I'd just say it's a little heavier. What I mean by that is… If you drink wine, sometimes you can taste the sediments. And that comes from the soil, type of grape and what have you. I think of it like that, with California tap you can taste the minerals. You feel it, there's texture to our water. It wasn't like it hit me right away. 3-4 days in, I was at Katz's Deli and I got some tap water and I was like "Wait a second, what the fuck? Is this shit from Dubai or something? This shit is clean bruh!"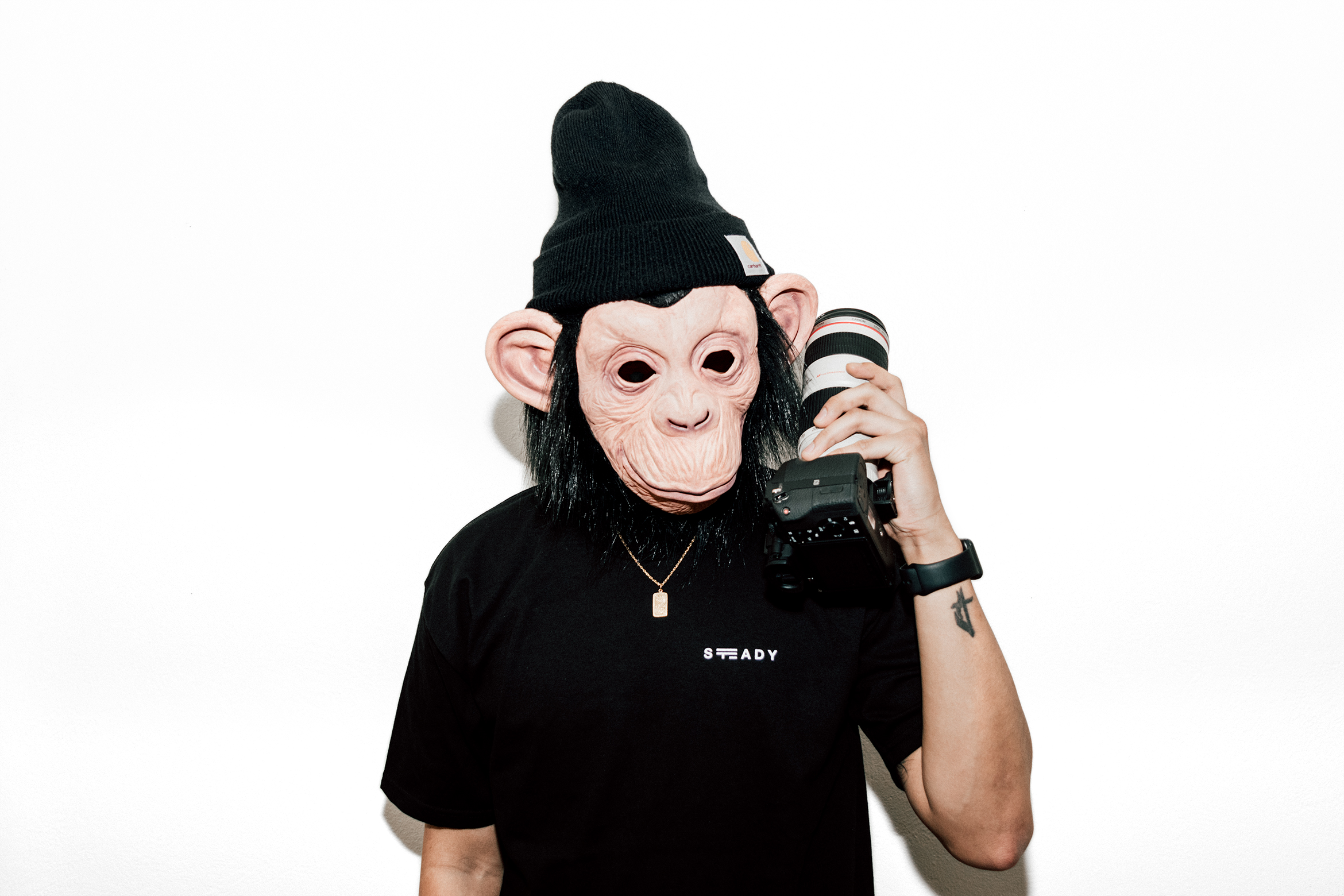 'Ignorance is bliss.'
STEADY: What's your best non-physical feature?
JEAR: This might come off really boastful…
STEADY: Talk yo shit!
JEAR: The things within my brain—I feel like I'm a pretty smart dude. I'm very situationally and culturally aware, adaptable, and I'm good at code-switching. I know when to be this person or that person. And it's not about carrying multiple personalities, it's all still me but I know how to package myself in different ways. It's about a holistic perspective of one self and others–how we fit into the greater picture but also how that picture affects us. I'm not over here trying to call other people dumb, I'm just saying I'm not simple-minded although sometimes I wish I was. You know? "Ignorance is bliss."
STEADY: What's your opinion on "Ignorance is bliss."?
JEAR: Here's my thing. I see a lot of people in our generation that claim to be "woke." I would say "woke" is the millennial renaissance. It's a rebirth, reawakening. Personally, I was into politics, sociology and social psychology since junior high. I didn't have a name for this stuff then but I was aware of the humanities, culture, social stratification, classes and all that bullshit. I don't know if this comes with maturity but "woke" seems to be a very recent trend within our gen. With that said, my take on the whole "Ignorance is bliss" thing is that a lot of the people who are "woke" talk a lot of shit about those who aren't. It's like shaming them for not being aware. And here's the question I often ask, "If the people who are 'woke' are trying to wake others up, to 'save' them, to better others by gaming them up on what's going on, do they bother to think what if these people don't want to be 'saved'? It's like The Matrix, we're all Morpheus trying to offer them the red pill to get them out the system but what if they don't want to be outside the matrix? To them that's what makes them happy–the matrix is bliss. I think about this in a selfish perspective as well, if I'm fighting for leisures and a chance to sit back and enjoy what I enjoy, go to restaurants, watch my sports teams do their thing as a form of escapism, I should be able to do that. Because at the end of the day, we're fighting for people to have a choice: the choice to live how they so choose, and that's with or without ignorances so as long as others aren't hurt by their ignorances. I think there's a push and pull, every now and then people who are "woke" need to go to sleep [metaphorically]. It does the body no good to stay up 24/7, you start trippin'. It's not healthy.
STEADY: Agreed, I feel like a lot of people are waking up others for the sake of adding to their coalition, losing sight that the "knowledge" we're gaming them on is meant to educate them in the greater dialogue. It's their decision to choose what to do with that information in accordance to their lifestyle. To use your Matrix reference, we're Morpheus offering the red pill to others for the sake of creating other red-pill-offering-Morpheus instead of "freeing" them. There should be an understanding that some people don't want to be Morpheus or be free of the matrix. The choice that fulfills them may be to just chill.
JEAR: That's exactly my sentiments on that. I would love for everyone to be "woke", socially aware and politically conscious. I think it's needed not only on a national scale but a global one too but I don't think everyone's equipt to be "woke". There's people out there that–not to be clich–can't handle the truth. They're not emotionally or mentally stable enough to deal with that. And I think a lot of times being "woke" causes people to have anxiety, feel hopeless or it might even increase their oppressive state. I often look at oppression not only just as a real thing but it's also a mental thing. The more that you're aware of your oppression without knowing how to combat it, the more likely you are to be a self-defeatist, people that think, "Well I can't do anything 'cause the system's built against me." There are a lot of smart people out there that understand these concepts but partake in apathy or apoliticalness 'cause they're hopeless. At the end of the day if we truly care about our humanities, we have to understand it in a fluid and individualized perspective. It can't be like "I'm gonna wake you up. You're gonna do this or that." We need to see them as individuals to understand how they can play their part in our humanities.
If you're going to be invested in the culture for money, there's some fakeness to it.
It feels like a costume.
STEADY: Switching up the pace here, (since I noticed your jacket last week) [a big yellow 'preme parka], what do you like about streetwear? And dislike?
JEAR: What I like about streetwear is that it comes from people much like myself. We make opportunities for ourselves by using resources that are available. It's very grassroots and small scale and (traditionally) not a corporate thing. It's the bottom-up American dream ethos. Streetwear is in large about independence. It's about making your own rules, decisions and protecting your identity while challenge norms and standards.
What I don't like is hype. What I hate most about hype is when people start investing into a brand they know nothing about just because they see it on social media or through celebrity endorsements. Everyone has their reason for buying into a brand but what I see as the most authentic reason is through understanding a [given] brand's mission and vision, its history and future. I think investing in streetwear is about more than just owning material objects.
STEADY: We spoke in previously about how art is subjective. In that conversation, you have fine art on one hand, and easily digestible Instagram photography (for example) on the other—both of which are art in their respective ways. In an attempt to draw parallels, is there something to be said about streetwear consumers that buy-in for its culture versus those in it because it's accessible and looks cool on the surface? Are they "equals" in the world of streetwear?
JEAR: I think people should buy into streetwear and contribute to it in a manner that's connected to the brands and truly appreciate it for what it is, rather than be driven by social status or monetary gain. The monetary value should be the icing on the cake. For me I think if you're attracted to anything for its capital means, it's not a totally genuine thing. Most of what we do is driven by money so I'm not here to knock that, but I think if you're going to be invested in the culture for money, there's some fakeness to it. It feels like a costume.
STEADY: Thanks to social media, streetwear now circulates on a global scale with constant crossover. That said, what's a trend unique to the Bay that you can't get behind?
JEAR: I would say it's a lack of a Bay Area identity that I'm not crazy about. What's trending in the Bay is people going out to places like Los Angeles, New York, or Japan and bringing what they see back and trying to replicate it. It's a beautiful thing in that it's made those styles accessible to us but it's bad because we have so much potential to create our own streetwear identity.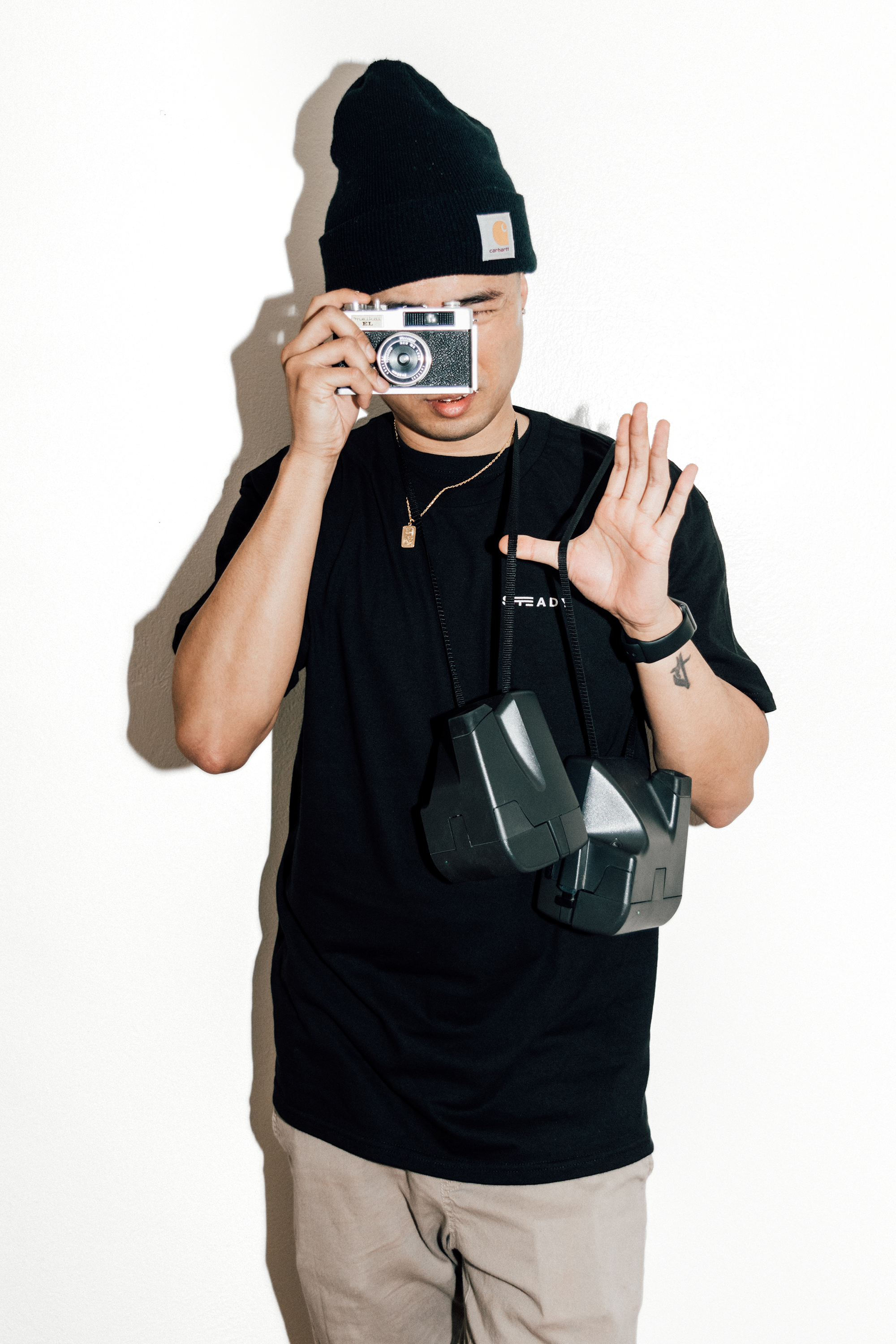 I haven't yet discovered my simple label.
STEADY: Our audience knows you as a photographer —namely through your recent work with us and our mutual friend Kate. How/what would you like to be known for?
JEAR: Wearing the label of a photographer is something I think about on a day to day basis. Photography isn't my only means of communication or art making although, it is something I publicize the most. But I very much disapprove of the whole pigeonhole thing where if I identify as a photographer I'm only going to be seen as one. I don't want the Harry Potter/Daniel Radcliffe effect. I've noticed when I'd go around introducing myself as a photographer, the first thing people would think about is Instagram. Instagram isn't the beginning nor end of photography for me. If you look at the history of photography, guys like Jacob Riis–a muckraker journalist who photographed immigrants in tenement spaces and got his work published in papers helped influence the creation of building codes and regulations. Photographers also had a main part in changing child labor laws and workers rights. So I see photography as a tool for social change. That's what's JEAR—to be able to show other alternative perspectives. I'm just going against the grain.
STEADY: Do you want to create art that has a social edge?
JEAR: Art [to me] is just about different mediums to convey a message. I don't always talk about social change or politics but the things I talk about outside of art are going to be reflected through my work. Some might be something socially explicit, some ambiguous. I celebrate ignorance too–I have projects in the works that are actually about how "Ignorance is bliss" and to hint at the need to balance our "wokeness."
STEADY: I've noticed that most of the people we speak in our generation share your sentiment, in that, they don't want to be labeled. They want to be known as a "creators" or "I am who I am and make what I make." However, I've grown older I (personally), have begun to romanticize the idea of people with a singular craft. For example, Annie Leibovitz, she's only a photographer and there's no glory lost on that. If I asked you to pigeonhole yourself to an artform, which would you chose?
JEAR: I love this question. It's also a pet peeve of mine to hear "I'm a creator." I can say I'm a transdisciplinary artist, and that's more of this high-brow label that I prefer to wear–which is to say, "I'm a creator." Transdisciplinary is a little more specific…meaning I approach artmaking from different academic fields. I've always felt pulled in multiple directions but I do want a neat package that can communicate the essence of what I'm about. There are benefits to wearing a simplified label, it helps people understand you. But I don't have this conversation with everyone I meet so I haven't yet discovered my simple label.
STEADY: Give the people a piece of life advice.
JEAR: These aren't original words from me but I was watching Dead Set On Life, Matty Matheson's cooking and travel show on Viceland with his co-host and mentor, Master Rang. They were in Vietnam and Master Rang was talking about how he escaped his village during the Vietnam war and he said, "Sometimes you just have to steal a boat and steer it off into the sunset."
STEADY: And the best for last—What's JEAR's guilty pleasure?
JEAR: Would calling out of work count? (Laughs) I like catting off. I like procrastinating. I'm the most productive when what I'm doing is a distraction from another task. It's like I have to create this main agenda to distract myself from. I hope no one from work sees this. (Laughs)
But another good one would be consuming goods. I'm "woke but not immune." I know I'm contributing to this excess culture by buying things that aren't truly necessities and even then, I'll still indulge in retail therapy. You know how they say "Money can't buy you happiness"? I think money can buy happiness, it's just our interpretation of happiness is incorrect. Happiness is a temporary state of mind–it requires maintenance. If you worked hard for your leisure, go fucking use your leisure.
I'm 'woke but not immune.'
—
Check out JEAR's take on our Editorial with SMOOTHPOSER.
—