The second-half of my journey to Korea back in October. I hope this glimpse back will help me look at what's ahead.
—
DAY 6: Ssam.
—
Patbingsu is important. So are good friends.
Sujeong and I met just last year in the States. It might sound odd but our friendship has helped change my perspective on Korean-born Koreans.
As a Korean-American, I've had a bad impression of them. I thought they were callous and generally exclusive. There seemed to be a lot of tension between "us" and "them" within our communities. This could be because of the expectation to hold onto our roots despite the results of assimilation — to not hold tight to them would be perceived to be a denial or forgoing of Koreanness.
But thanks to Sujeong and others like her, I am able to reconcile my experience with our shared Korean heritage and my understanding of it.
—
DAY 7: Flying Solo.
—
I like traveling alone. I usually travel alone.
Traveling alone I get to spend extra time sitting in pockets of life that I probably couldn't if I were with someone else. It doesn't feel like I'm somewhere to be entertained and make memories with a friend. Nor is there a pressure to make the most of it.
It feels easier to see and take in both the life and stillness surrounding me — the way things were before I stepped into the picture. Everything becomes a discovery and I'm thankful to soak it all in.
—
DAY 8: 5-6-7-8.
—
I visited four different dance studios: I went to K1 to teach, Seoul Tanz Station for ballet, T.I.P. and Dancebox for bboy sessions, and 1Million for choreography.
Walking into these places, I half-expected to catch side-eye for having a different approach to dance. I noticed two things: I danced very differently from everyone else. I was the only one who asked questions.
With choreography, it's a given that you should try your best to accurately capture the movement that's shared with you, but I've learned that you're allowed to make stylistics choices within the structure of the piece. In the States, I feel like that's more encouraged whereas in Korea, it seemed like they were trying to emulate without their own interpretation. As a student, you're expected to just watch and learn and do.
Despite all, surprising, I found the studio vibes to be warmer and more welcoming than some I've felt in NYC. A tale of two cities I guess.
—
DAY 9: Cab drivers scare me a lot.
—
The following takes place inside a cab, post-Red Bull BC One in Korean and broken Korean.
Driver: Wow, we could've just gone the other way. Way to make me go in circles for nothing. How can you not know where you live?
Me: I'm sorry, I'm from America so I don't really know the area.
Driver: What are you, a student?
Me: I said, I'm from America.
Driver: So, are you a student? (patronizingly)
Me: I graduated.
Driver: I mean, how can you not know where you live? You're making me waste my time by going the wrong way. What do you think you're doing?
Me: I told you I'm not from here, I told you that already.
Driver: If you're from America, then why are being so ___, missy? (I don't know what he said, but in context it seemed to be something about my mannerisms.)
Me: Sir, I just came here a few days ago and next week I'll be returning to America. You're yelling at me because I don't know how to get home even though I'm not from here. You can just drop me off, and I'll pay for whatever distance you've driven because I can get home myself.
This continues for a few minutes. He persistently continued to argue with me as I tried to tell him that I would like to get out of the car. He didn't let me. Finally he slows to a stop. As he continued to belittle me I asked him, "so, do you take card?" to which he replied, "…. just get out!" He cursed and followed me in his car for several feet.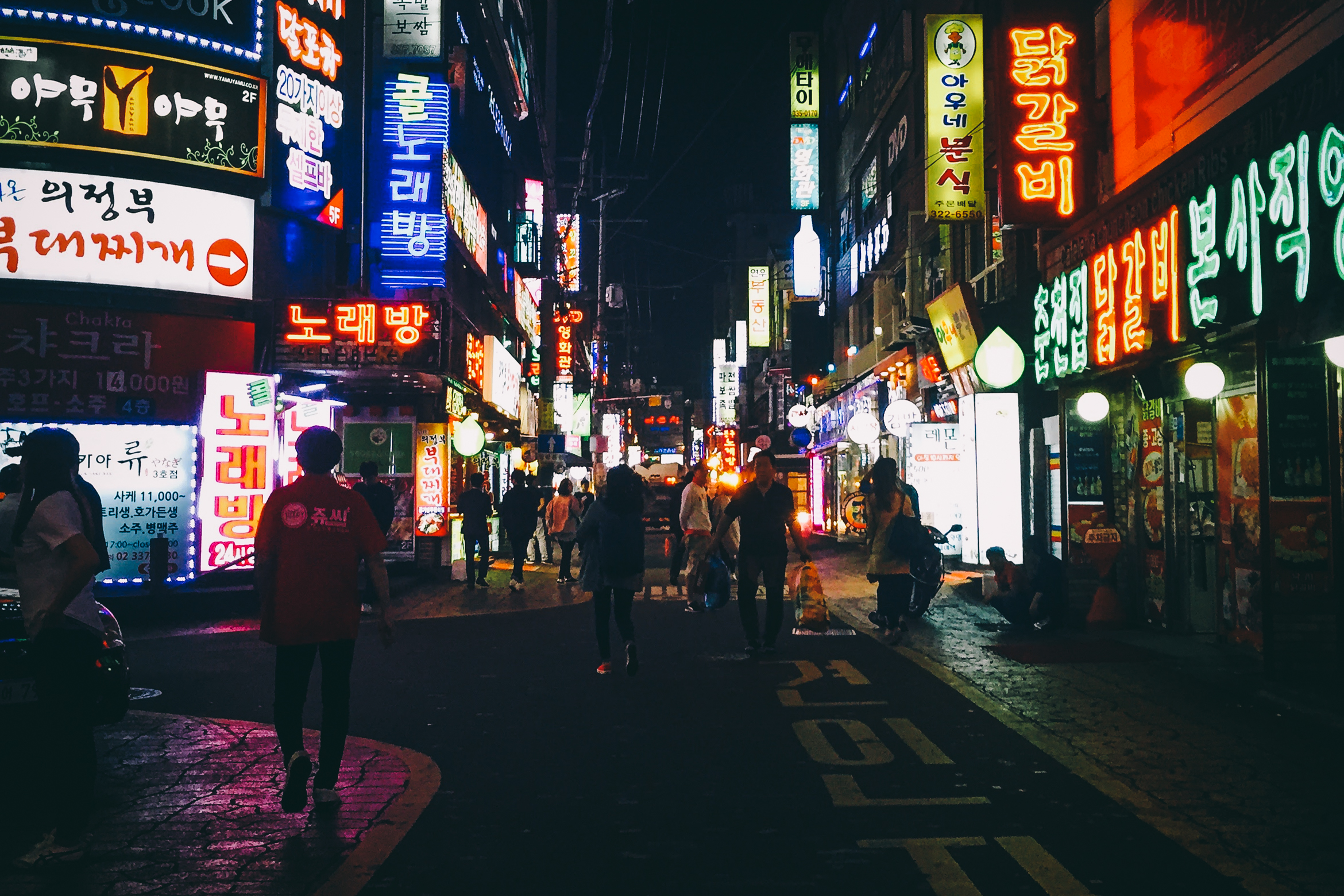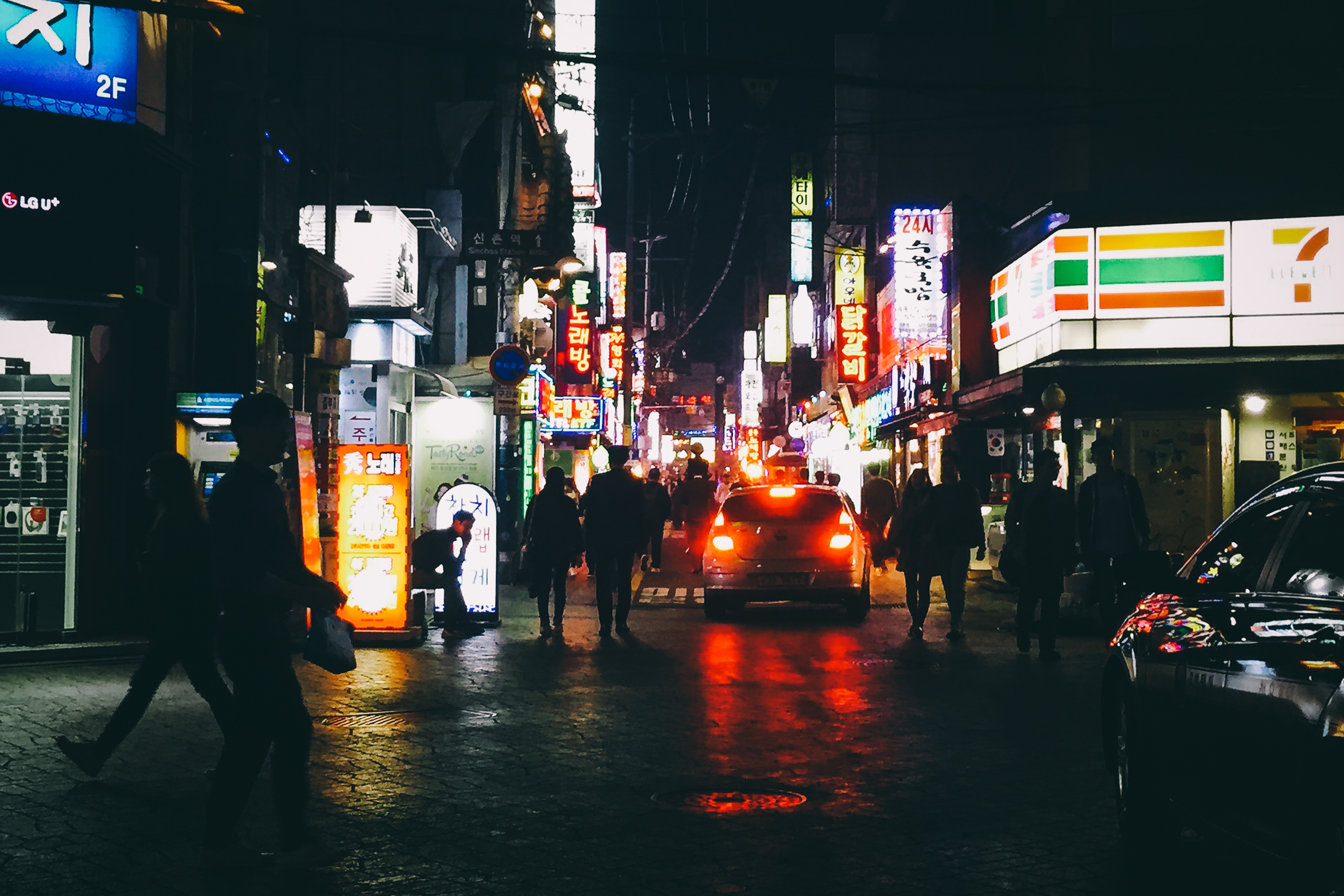 From the start, I apologized for my lack of Korean fluency, and until the very end, I had used formal tense in my language. I even thanked him when I got out of the car, but he just didn't like the fact that I could talk back to him. Most people weren't surprised by my story. I'd eventually learn that drivers are likely to take advantage of you. Apparently, asshole guys like him are common.
I felt like total shit. I love being Korean, I love my people, but as a Korean-American, there are some things I grew up to know I won't tolerate. I walked a longer distance home, feeling confused and defeated as to what just happened. Once I reached the apartment, I binge-watched TV and took selfies to make myself feel better. This was def a #lonelykoreangirls moment that I encountered in the flesh.
—
DAY 10: Grandfather's tree.
—
These were my last moments with fam before returning home: We ate shabu shabu, talked about grandfather's persimmon tree, and grandma braided my hair. I don't remember the rest. I just remember the feeling.
Grandma picked a persimmon from the tree for us to take home. Mama Song always talks about how she wants a tree of her own, maybe Grandma was just trying to help sow the seeds.
Mom quickly pointed out that the TSA would let that fly. We had to leave it behind.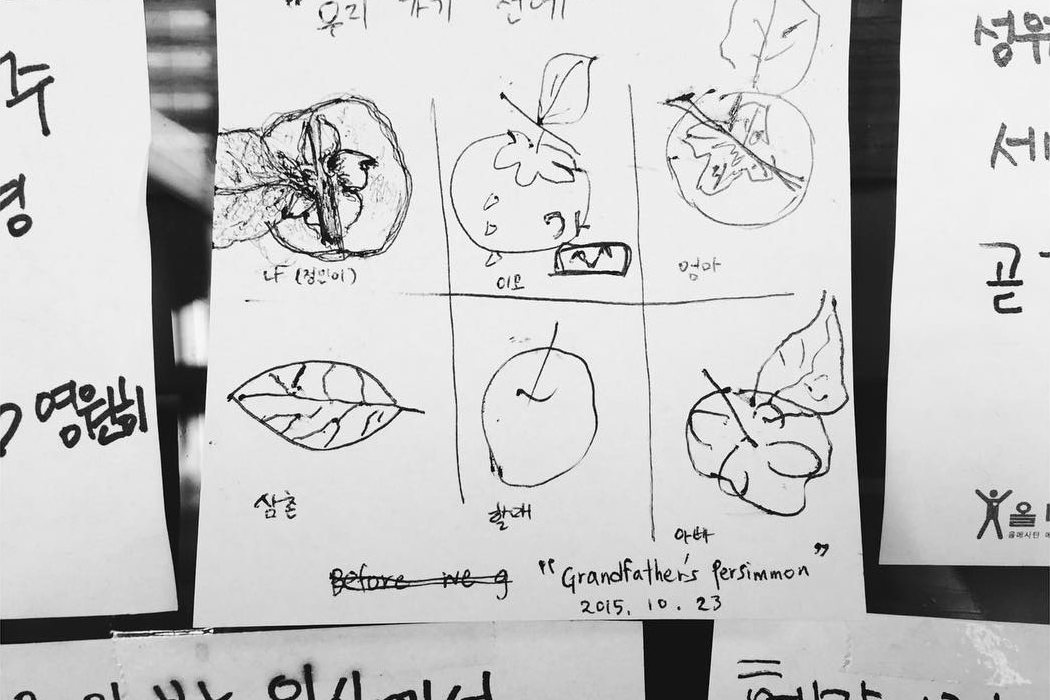 I was hoping we'd at least get to eat it.
—
DAY 11: CLOSING.
—
"Where I'm from,
Han is the name we gave to struggle and pain
It's river,
Runs through our city like it runs through our veins"
Han is innate. I want to share it but I don't know if it can be fully understood without being Korean. Han permeates Koreanness. It's grief, emptiness, and beauty.
It's the emptiness in your silenced history. It follows you on the subway and you taste it in your food. You hear it in songs. You see it in the eyes of your mother.
It's the mandatory military service. It's the Ivy League diploma and second sedan that's expected to sit in the driveway. It's the shame that we pretend doesn't exist. It's the pride that disguises the pain.
I was born and raised in the States, but it still found me.

—