Sometimes LACASHFLOW, sometimes LUKELACE, the man behind our S/S 2017 LOOKBOOK VIDEO, LUKE LACASA sits down to tell us more about himself and the artistic challenges he faces.

—
STEADY: Tell us where you're from.
LUKE: I'm from Skyline, San Diego. I live right next to the Meadowbrook Apartments. It's one of the lesser known rough parts of town. Drunk bums and crackheads in the street! And all the houses have bars on their windows. (Laughs)
STEADY: Which emoji(s) describe you best?
LUKE: 😈💦😫. Also [Avocado]🌱🌿
STEADY: Is that reflective of your best non-physical feature?
LUKE: [Yes] I was blessed with the pimp juice. (Laughs)
STEADY: What do you like and dislike about streetwear?
LUKE: I hate when fools be looking like a Karmaloop ad and they think they original motherfuckers, y'know? (Laughs) They pull up like "Check out the kicks I just bought" like NO, man! Also people who look like new hypebeasts —like they just started buying 'preme last year. They don't know 'preme history or anything about skating.
What I do like about streetwear is it's expressive. You're able to show people what you like. That goes both ways —if your taste is trash, then your fits are trash. (Laughs)
STEADY: Streetwear trends you absolutely do not fuck with?
LUKE: If you wear Thrasher and you don't skate, you're trash. If you have copied Thrasher, you're fuckin' frail. Get out the game. Like, if you seen one person do it, and copy it, and it's not the real thing, why would you do it too? That shit is ugly and for fools. Please try harder to be original. (Laughs)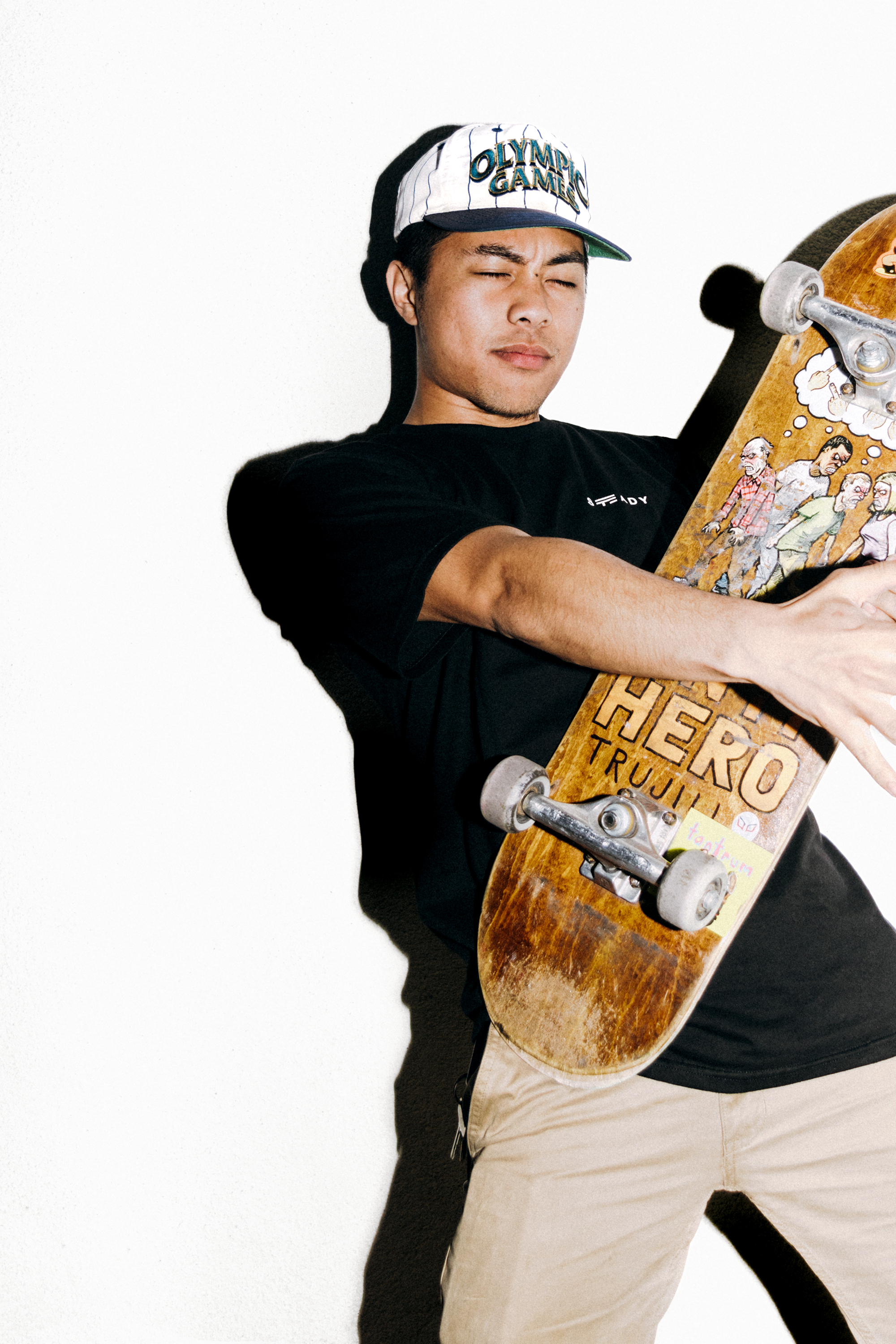 I wanna be part of this greater circle of artists, but not lose sense of who I am.
STEADY: San Diego is conservative? What does that mean for an artist such as yourself?
LUKE: Everybody is conservative in this town pretty much. San Diego is like a retirement fuckin' city.
I come from a lower income neighborhood. I grew up with skaters and skating [be]cause it was cheap and all I had. Coming up, I didn't see edgy ass shit. My group of friends are conservative as fuck, I'm quoting this: "People make fun of things that they don't understand." So, no matter what you're looking at, anything edgy that's coming from San Diego, is gonna be made fun of. (I'm guilty [too] of roasting people.)
And then I got to college/uni levels of social groups —people more well-cultured. They had tutoring, soccer/football leagues, stuff like that. My family and hood didn't really had money for that. But, when it comes to being an artist, I feel like it's [being] true to yourself if you're open-minded. You can't appreciate good art being close minded. Good art should suspend all understanding of reality when you see it. Every time you see something that inspires you, you're like "what the fuck, I didn't know you could do that!." That's stuff you can't find in conservative circles (Laughs)
STEADY: How do you reconcile that —your desire to push artistic boundaries amongst more conservative peers?
LUKE: That's a personal fuckin' question. It's hard, cause they weren't giving me the creative food for thought that I needed in the process. I wasn't able to bounce ideas off of them and be progressive to better my work. Again, if anything was considered weird or wasn't "hood-like", you'd get roasted quick, which is fine but also not. The hood feeds and breeds on negativity. So many people in the streets want to bring you down and see you fail.
So half of my life was putting that on ice, y'know. At times, it's hard expressing that "artistic" part of me because some people I trust really aren't into that. At the same time, it's like DJ Khalid though —you can't fuckin' play yourself by robbing yourself of what you like. You got to be able to be open to what you like no matter what anybody thinks. But if you force yourself to be blind to it, then you're playing yourself and not able to grow.
It's just tough —without them, I'm nothing. And that's bottomline. They know who they are.
I wanna be part of this greater circle of artists, while keeping a strong sense of who I am. My close friends keep me rooted in what my values are and where I came from. Cause if you don't have that connection, who are you really? (Laughs)
STEADY: Looking at guys like Chance and Lebron, do you ever think about building up your hood? Do you feel the need to?
LUKE: Another hard question, I feel like a lot of the people I look up to have tried to answer this question. You can only attack it from certain angles. For me, I obviously wanna give back. People need drive and support in what they love, and people need to chase what they love so they don't feel as shitty. I want to inspire other kids who have dealt with the same issues I have —low income and loss.
You can't save everybody but, you can do so much to set the example. You need to feed people positivity. (Laughs)
You can't fuckin' play yourself by robbing yourself of what you like.
STEADY: What's the end goal? What would you like to be known for?
LUKE: Renaissance man. I wanna be able to do as many things in my life as possible. Not because people don't think I can do it, but because why not do whatever the fuck you want?
[I wanna be known for] Having a career that was based on breaking the rules and blending the lines. All great, progressive art has pushed the line and came from a new direction. Something new is always going to be better than something that was already done. I wanna keep making original work to help push that line [further] and to help the next gen create things that can elevate the understanding of life and art. Specifically, through filmwork. (Laughs)
STEADY: Give a piece of advice to someone who wants to be doing what you're doing.
LUKE: [As much as it can be] Don't make it about race. It's about developing yourself as a person to a level you wanna be at. Say you wanna be the next Picasso. Surround yourself with ideas and movements —know your history, who came before you, y'know. People who don't know their history are bound to make the same mistakes in history. So, know your shit, know yourself and have fun. (Laughs)
STEADY: What's your guilty pleasure?
LUKE: Candy. Anything sweet. I deadass just can't stop eating sugar, it's a problem. That shit's addicting and they got me, y'know. I feel like I'm a very addicting person addictive person. I'm also a very addicting person, won't you say? (Laughs)
You need to feed people positivity.
—
Check out our S/S 2017 LOOKBOOK VIDEO directed by LUKE.
—
Contributors: I. Tan, S. Lee